Waiting on Wednesday is a weekly meme hosted by Jill over at
Breaking the Spine
. It spotlights books that have not yet been released, but ones that you should pre-order today! This week's book that I am anxiously awaiting is:
Gates of Thread and Stone
by Lori M. Lee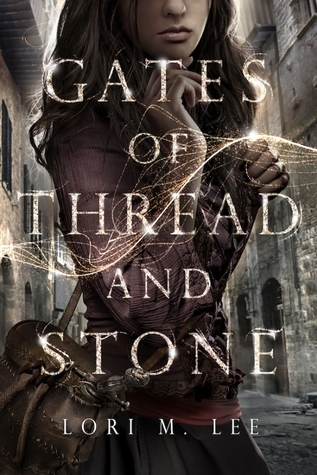 In the Labyrinth, whe had a saying: keep silent, keep still, keep safe.
In a city of walls and secrets, where only one man is supposed to possess magic, seventeen-year-old Kai struggles to keep hidden her own secret - she can manipulate the threads of time. When Kai was eight, she was found by Reev on the riverbank, and her "brother" has taken care of her ever since. Kai doesn't know where her ability comes from - or where she came from. All that matters is that she and Reev stay together, and maybe one day move out of the fraight container they call hom, away from the metal walls of the Labyrinth. Kai's only friend is Avan, the shopkeeper's son with the scandalous reputation that both frightens and intrigues her.
Then Reev disappears. When keeping silent and safe means losing him forever, Kai vows to do whatever it takes to find him. She will leave the only home she's ever known and risk getting caught up in a revolution centuries in the making. But to save Reev, Kai must unravel the threads of her past and face shocking truths about her brother, her friendship with Avan, and her unique Power.
- Goodreads -
Why I can't wait
This books sounds amazing. I has been a while since I last read a real fantasy book with a setting in an other world. And her powers sounds nice, so can't wait to read this book. Besides the cover of this book is gorgeous too!
Publication date: August 5th 2014
El