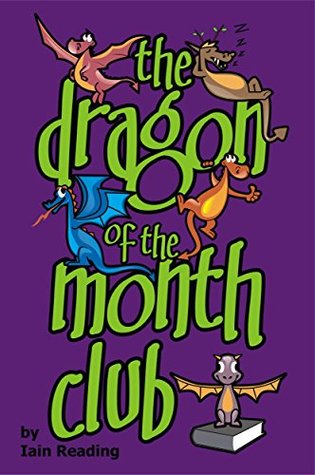 Title: The Dragon of the Month Club
Author: Iain Reading
Genre: Adventure, Fantasy, Middle Grade
Publisher: Createspace
Publication date: December 18th 2014
Pages: 236 (paperback)
Source: received from publisher/author (thank you!)
The Dragon of the Month Club is a new young adult fantasy adventure novel by Iain Reading.
The Dragon of the Month Club is the exciting first installment in a new book series that tells the story of Ayana Fall and Tyler Travers, two best friends who stumble across an extraordinarily magical book and soon find themselves enrolled as members of a very special and exclusive club - The Dragon of the Month Club.
On the thirteenth of every month a new dragon conjuring spell is revealed and the two friends attempt to summon the latest Dragon of the month. The varieties are almost endless: Air Dragons, Paper Dragons, Fog Dragons, Waterfall Dragons, Rock Dragons, Tree Dragons - not to mention special bonus dragons for all the major holidays, including a particularly prickly Holly Dragon for Christmas.
But one day when a conjuring spell somehow goes wrong Ayana and Tyler find themselves unexpectedly drawn into a fantastical world of adventure based on the various books scattered all across Tyler's messy bedroom. Travelling from one book-inspired world to the next with nothing to rely on but their wits and a cast of strange and exotic dragons at their disposal they must try to somehow find their way home again.
Drawing inspiration from some of literature's most memorable stories - from 19th century German folktales to the streets of Sherlock Holmes's London - the adventure of Ayana and Tyler bring these classic stories to life in a delightfully strange and unexpected ways. Filled with fascinating detail and non-stop action these books will spark the imaginations of readers of all ages to inspire a life-long love of reading and seeking out books that are just a little bit off the beaten track.
The Dragon of the Month Club
is the second series that I have read by Iain Reading. I read his Kitty Hawk series before and I loved those books. So when the publisher approached me with the request to read this book I could not pass up the offer. This series I completely different than his other one since is more fantasy but I still enjoyed it immensely.
Ayana moved from Vancouver to some small town in Alberta, Canada. It is never easy to be the new girl in a school, especially not in a small town where everybody has known each other for years. But then she met Tyler in the local library. Tyler and Ayana soon became best of friends and often they would hang out at the library, the place they first met. Here they found a book that would change their lives completely.
How to Conjure Your Very Own Dragon in Six Easy Steps
seemed like a weird book at first. Conjuring a dragon? That could never be possible could it? But when Ayana and Tyler try to conjure their first dragon it actually works. What follows is a crazy adventure with lot of dragons, creatures in a dessert, a whishing tree and even Sherlock Holmes!
The Dragon of the Month Club
is a very enjoyable read. It takes you on a crazy adventure in a magical world. I am a grown adult and I still enjoyed reading it. It was easy to get drawn into the world Iain Reading created in this book and it kept me wanting to read on. This book is mainly for middle graders so if you have one at home that likes magic and adventures that this one should definitely be on their and your reading list. This book is the first one in a series and I cannot wait to see how Ayana's and Tyler's adventure will continue!
Elien