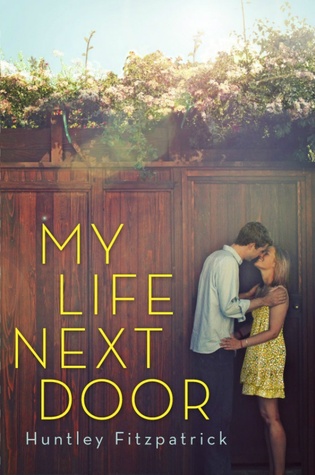 Title: My Life Next Door
Author: Huntley Fitzpatrick
Genre: Contemporary, Romance, Young Adult
Publisher: Dial Books For Young Readers
Publication date: June 14th 2012
Pages: 394 (Hardcover)
Source: Netgalley
"One thing my mother never knew, and would disapprove of most of all, was that I watched the Garretts. All the time."
The Garretts are everything the Reeds are not. Loud, messy, affectionate. And every day from her rooftop perch, Samantha Reed wishes she was one of them... until one summer evening, Jase Garrett climbs up next to her and changes everything.
As the two fall fiercely for each other, stumbling through the awkwardness and awesomeness of first love, Jase's family embraces Samantha - even as she keeps him a secret from her own. Then something unthinkable happens, and the bottom drops out of Samantha's world. She's suddenly faced with an impossible decision. Which perfect family will save her? Or is it time she saved herself?
A transporting debut about family, friendship, first romance, and how to be true to one person you love without betraying another.
Recently I am really into contemporary Young Adult books I cannot seem to get enough of them. But often I am a bit of a snob when I read them. But this book knew exactly how to hit the right feelings.
Often I feel like people seem to rush into relationships in contemporary novels but this one was different. Samantha and Jase took things slowly; they got to know each other first before rushing into things. They first formed a friendship and their romance burned slowly and steadily. Another thing that I liked so much about this book was that all of the characters felt so real, even the secondary characters. I loved some of those secondary characters so much that I wish that they would get their own book like Tim and Alice. At first I was not their biggest fan but they grew so much on me!
I really adored Jase. He is such a loving guy, probably because his whole family is so loving and caring. He is someone who always thinks first of other people and only after that about himself. Jase never has to think twice when someone asks for his help. Samantha has always been the good girl. Her sister was the one who always caused the problems so she always felt like she had to please her mother to keep the peace. And I could totally relate to that because I have felt like that as well. But after she meets Jase she realizes that she is also allowed to live her life like she wants too. Sam is a nice girl, while she grew up in a judging family she never did it herself and she sees the Garrett's for what they are: a loving and caring family.
The plotline of this book was really good. Fitzpatrick her writing style is quite detailed but in a way that you soak everything in without it being too overwhelming. There were so many feelings and emotions that I sometimes had to put the book aside to collect myself. It not only showed the story of the two main characters and their problems but also that of the ones surrounding them. And then the ending of the book, I cannot say that I saw that twist coming.
Overall I really liked this book. It had the right amount of romance, drama and friendship. It was one of the better contemporary novels that I had read in a while. And I cannot wait to read the next book by Huntley Fitzpatrick!
Elien