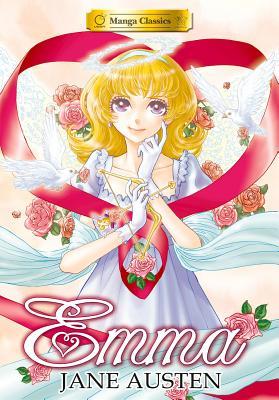 Title: Managa Classics: Emma
Author: Stacy King
Genre: classic, manga
Publisher: Udon Entertainment
Publication date: May 12th 2015
Pages: 308 (paperback)
Source: Netgalley
Just in time for the 200th Anniversary, Manga Classics: Emma brings Jane Austen's classic tale of youthful folly and romantic exuberance to a modern audience with this beautiful, new manga adaptation. The impulsive match-making of Emma Woodhouse delivers both humor and heartache through the gorgeous artwork of manga-ka Po Tse (Manga Classics: Pride and Prejudice). - Manga Classics editions feature classic stories, faithfully adapted and illustrated in manga style, and available in both hardcover and softcover editions. Proudly presented by UDON Entertainment and Morpheus Publishing.
This was the very first manga book that I have ever read, for some reason they never really appealed to me. But Emma is one of my favorite Jane Austen books so I thought that I should give it a shot and it was definitely worth it.
The story follows the original plotline, which I am really thankful for. Because I know some old stories in a new concept are sometimes altered a lot. Of course it is a lot shorter than the original since it is a manga so a lot of things were left out or told a bit differently since it is impossible to cram everything into one manga book. One of the reasons why I enjoyed this manga so much was because I recognized so much from the original story. It was a great read in so many ways. I enjoyed the graphics and it was nice to see how the characters were given certain expressions. And I could really imagine the characters being like that in real life as well. The dialogue between the characters and the inner monologues were well written and kept me interesting. When I was younger I read a lot of comic books and reading Emma reminded me so much of it.
I only had one problem with this manga. Emma was already a bit snobbish in the book, usually without the intend to be so, but here she came across as a real snob and self-absorb. And she often was even cruel. Now it might be just me, since I have not read the book in ages but I do not remember her being like that at all. Other than that I have no complaints at all about this manga retelling.
Overall I really enjoyed reading Emma and it was definitely a good experience. I might actually pick up some other manga retellings from classics since it will me take less time to "reread" them then. If you are looking for a nice way to relive Emma than I would definitely recommend this to you.
Elien