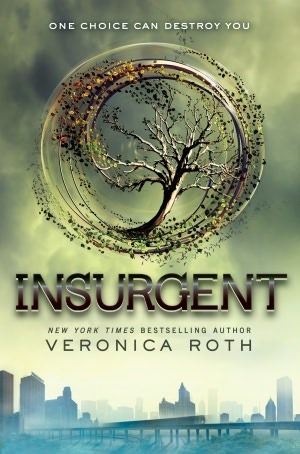 Title: Insurgent
Author: Veronica Roth
Series: Divergent
Genre: Dystopian, YA
Publisher: HarperCollins Children's Books
Publication date: May 1st 2012
Pages: 525 (hardcover)
Source: own-it
One choice can transform you - or it can destroy you. But every choice has consequences, and as unrest surges in the factions all around her, Tris Prior must continue trying to save those she loves - and herself - while grappling with haunting questions of grief and forgiveness, identity and loyalty, politics and love.
Tris's initiation day should have been marked by celebration and victory with her chosen faction; instead the day ended with unspeakable horrors. War now looms as conflict between the factions and their ideologies grows. And in times of war, sides must be chosen, secrets will emerge, and choices will become even more irrevocable - and even more powerful. Transformed by her own decisions but also by haunting grief and guilt, radical new discoveries, and shifting relationships, Tris must fully embrace her Divergence, even if she does not know what she may lose by doing so.
I read Divergent a few years ago for the first time and I immediately loved the book. But for some reason I kept putting of reading Insurgent. Now that the books are being adapted into movies I figured it was about time that I read Insurgent.
Insurgent picked up exactly where Divergent ended and I am glad for that. If there had been a time gap between the books than it wouldn't have been that good. I mean so much is happening in the Divergent world so it wouldn't have made sense otherwise. There is little recap of what happened in the first book so you might want to reread it before you dive into Insurgent.
Insurgent is much darker and edgier than Divergent was. Their lives have become tougher and you can notice it in the scenes, they are much more brutal and rawer. Tris is struggling with everything that happened at the end of the first book. In some perspectives it made her tougher and braver than others her age but at the same time she's broken. Because of this she does some things that are not like her, she puts herself constantly at risk for nothing and so she also puts others at risk. But it's clear that it is her way of coping with everything that happened. Four doesn't know how to help Tris. Besides he has his own problems now that his father is back in his life. Like Tris he is also keeping secrets from her. And while it's clear that they love each other there secrets keep them apart and if they are not careful it might tear them apart. They were both irrational at times and they didn't know what to do about it. It's an understatement to say that they had a communication problem. While it frustrated me at times it was at the same time one of the things I loved about this book. It made their relationship more real, it wasn't flawless like it sometimes is in other books. They acknowledged that they each had their faults and that they both had to work harder for their relationship to work out.
Veronica Roth effortlessly waves violent dystopian fiction and romance together. At the same time Roth knew when to inject some humor to lighten the mood. Those light moments were nice otherwise the book would have been too dark. The middle of the book was a bit dragging and it lost some of my interest, that's why I gave this book four stars instead of five. But after that the book again read like a train. The end of this book was pretty great, but there was a major cliff-hanger. And I hate cliff-hangers I always keep wondering what will happen next, even days after I've finished the book. So I will have to buy Allegiant fast!
Overall I really liked this book, I didn't love it as much as the first one but it did satisfy my expectations. I can't wait to read the next and last book in this series!
El