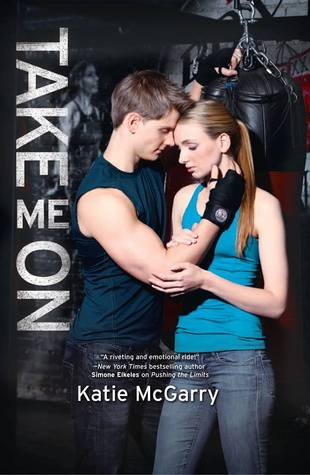 Title: Take Me On
Author: Katie McGarry
Series: Pushing the Limits
Genre: Romance, Contemporary, YA
Publisher: Harlequin Teen
Publication date: May 27th 2014
Pages: 544 (Hardback)
Acclaimed author Katie McGarry returns with the knockout new story of two high school seniors who are about to learn what winning really means.
Champion kickboxer Haley swore she'd never set foot in the ring again after one tragic night. But then the guy she can't stop thinking about accepts a mixed material arts fight in her honor. Suddenly, Haley has to train West Young. All attitude, West is everything Haley promised herself she'd stay away from. Yet he won't last five seconds in the ring without her help.
West is keeping a big secret from Haley. About who he really is. But helping her - fighting for her - is a shot at redemption. Especially since it's his fault his family is falling apart. He can't change the past, but maybe he can change Haley's future.
Haley and West have agreed to keep their relationship strictly in the ring. But as an unexpected bond forms between them and attraction mocks their best intentions, they'll face their darkest fears and discover love is worth fighting for.
When I dream about a book I'm reading than I know that the book is amazing. It happened to me with Take Me On. I loved every single minute of it!
I loved that this book was about fighting in a professional way and not about street brawling. It's a sport that has to be admired as long as it's used in a good way. Like most sports it's something that can only make you stronger in the end. And it's a good way to let go of your emotions. I'm always glad with the topics Katie McGarry choses, but this one is probably my favorite next to the cars she used in Crash Into You.
I already like West from Crash Into You so I was really happy that he got his own book. Even then it was clear that he was trouble, he was the only one in his family to not step in line. Always fighting, literally and figuratively, with everyone and everything. He's an amazing character. He has grown so much, the difference from the boy we meet in Crash Into You and at the beginning of Take Me On to the man he is at the end of Take Me On is remarkable. He has his own demons to fight but in the end it makes him a better person. He learns to appreciate what he has and who he is. He's really self-assured once he knows what he wants he does everything he can to get it and to keep it. But he's also noble and self-sacrificing. So he's just an amazing guy that you can't help to love.
Haley is a great heroine. She's kick-ass but at the same time vulnerable. But she always tries to keep up her appearance because she has this feeling that she has to be strong to protect everyone around her. It was lovely to read about her and to follow her throughout the story. Just like West she's battling her own demons that threaten to consume her if she's not careful. She's a really great girl and if she existed in real life then I would have been happy to have her as a friend.
Katie McGarry's writing style is great. She always manages to get you engrossed into the book from the first chapter. When I'm reading her books I always lose track of time and I'm always reluctant to put the book down to get some sleep or to get my homework done. She's one of my favorite YA contemporary authors and I'm sure that if she writes just one more book like this that she'll be my all-time favorite.
Overall I loved this book. Every single second of it was amazing, so many wonderful things happened and I met so many new characters that I wished would get their own book, like Abby and Jax. I'm hoping that many more books will follow in this series and I can't wait to read more books by her.
El