Waiting on Wednesday is a weekly meme hosted by Jill over at
Breaking the Spine
. It spotlights books that have not yet been released, but ones that you should pre-order today! This week's book that I am anxiously awaiting is: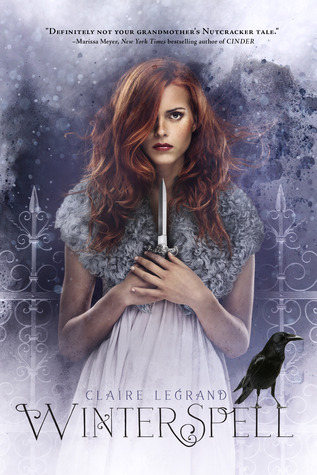 The clock chimes midnight, a curse breaks, and a girl meets a prince... but what follows is not all sweetness and sugarplums.
New York City, 1899. Clare Stole, the mayor's ever-proper daughter, leads a double life. Since her mother's murder, she has secretly trained in self-defense with the mysterious Drosselmeyer.
Then, on Christmas Eve, disaster strikes.
Her home is destroyed, her father abducted - by being distinctly nothuman. To find him, Clara journeys to the war-ravaged land of Cane. Her only companion is the dethroned prince Nicholas, bound by a wicked curse. If they're to survive, Clara has no choice but to trust him, but his haunted eyes burn with secrets - and a need she can't define. With the dangerous, seductive faery queen Anise hunting them, Clara soon realizes she won't leave Cane unscathed - if she leaves at all.
Inspired by The Nutcracker, Winterspell is a dark fairy tale about love and war, longing and loneliness, and a girl who must learn to live without fear.
This books sounds amazing. I love fairy tales and this one has a darker edge which I love. Also The Nutcracker is great, so I can't wait to read what the author made of it.
Expected publication: September 30th 2014
El