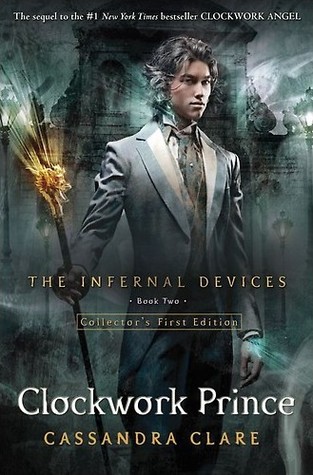 Title: Clockwork Prince
Author: Cassandra Clare
Series: The Infernal Devices
Genre: fanstasy, YA
Publisher: Simon & Schuster
Publication date: December 6th 2011
Source: own-it
In magical Victorian London, orphan Tessa found safety with the Shadowhunters, until traitors betray her to the Magister. He wants to marry her, but so do self-destructive Will and fiercely devoted Jem. Mage Magnus Bane return to help them. Secrets to her parentage lie with the mist-shrouded Yorkshire Institute's aged manager Alyosius Starkweather.
I began to read Clockwork Prince a bit reluctantly since it was clear that there would be a major love triangle in it. And if there is one thing that I hate the most in books it's love triangles. And yes there was one in it but it didn't bother me as much as it usual does. I mean it's clear who Tessa really loves, so it's not such a big love triangle.
But I am so glad that I read this book. There was a lot less action in it than in Clockwork Angel and I have to admit that I missed all the action. This book was mostly relationship and character driven. I really felt connected with the characters, especially to Will. We finally get to see what's happening inside of his pretty head. The walls that he built around himself finally start to collapse bit by bit thanks to Tessa. And I love her for that, Tessa is such a sweet girl I mean it's just impossible not to like her. I also enjoyed that Sophie got a bigger part in this books, she's an amazing girl and she deserves the best. And I hope that she will keep growing in the next book.
Like I mentioned before there wasn't as much action in this book than in the first one. But there were still enough plot twist and other things that happened to keep me on the edge of my seat. And since a lot is still left unresolved the next book has to have a lot more action, at least I hope so!
Anyway I loved this book and I can't wait to read the last book in this series!
El