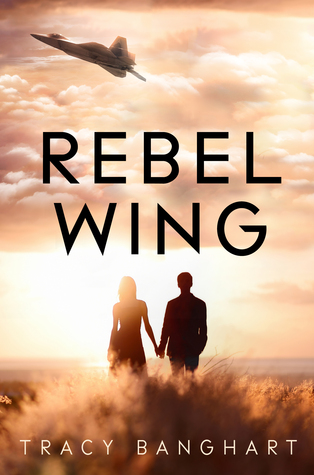 Title: Rebel Wing
Author: Tracey Banghart
Series: Rebel Wing
Genre: Sci-Fi, Fantasy, Young Adult
Publisher: Alloy-entertainment
Publication date: July 29th 2014
Pages: 372 (Kindle)
Source: Netgalley
The Dominion of Atalanta is at war. But for eighteen-year-old Aris, the fighting is nothing more than a distant nightmare, something she watches on news vids from the safety of her idyllic seaside town. Then her boyfriend, Calix, is drafted into the Military, and the nightmare becomes a dangerous reality.
Left behind, Aris has nothing to fill her days. Even flying her wingjet - the thing she loves most, aside from Calix - feels meaningless without him by her side. So when she's recruited to be a pilot for an elite search-and-rescue unit, she leaps at the chance, hoping she'll be stationed near Calix. But there's a catch: she must disguise herself as a man named Aristos. There are no women in the Atalantan Military, and there never will be.
Aris gives up everything to find Calix: her home. Her family. Even her identity. But as the war rages on, Aris discovers she's fighting for much more than her relationship. With each injured person she rescues and each violent battle she survives, Aris is becoming a true soldier - and the best flyer in the Atalantan Military. She's determined to save her Dominion... or die trying.
Rebel Wing
is one of the books I have read so far this year. It captured my attention right from the very first page until the end. This book is truly amazing.
Aris her life had always been comfortable. She had her boyfriend, Calix, her friends, her family and her wing jet to fly. But when Calix is drafted into the military her life is turned upside down. This wasn't the plan, they were supposed to promise and now she can't be sure that she will ever see him again. In order to be with him she makes an impulsive decision to join the military herself disguised as a man since women are not allowed in the military. Soon she finds out that she is fighting for more than her relationship with Calix.
Aris is a great character. And I really loved her. At the beginning at the books she was naïve and a damsel in distress. Everyone always hovered around her and took care of her because she had a limp. When she decided to join the military she did if for all the wrong reasons. She only did it to find her boyfriend while she should have done it because she wanted to save lives. But she developed so much true this story. She grew stronger both physically and mentally. Aris blossomed into a wonderful woman. And the reason why she fought harder than anyone else was the right one, she realized what kind of good she could do when she fought in this war and saved people there live. Aris turned into a person with commitment, courage and loyalty.
Parallel with Aris her story there is also the story of Ward Vadim, the Warden of Ruslana, and Ward Nikos, the Warden of Atalanta. Ward Nikos is trying everything he can to ward of the Safaran troops in his dominion. But he knows that he is failing, so every help he can get is more than welcome. But when Ward Vadim is taken ill his greatest ally disappears. The thing is Ward Vadim hasn't taken ill but is being held captive. She doesn't know where she is or why she is being held captive. I really liked all the suspense surrounding these parts of the books. You couldn't help wondering why her kidnappers went through so much trouble and who is behind it all. In the end everything became clear and I have to say that I was taken a bit by surprise, which is a good thing.
I love this book so much. Really I can't believe why this book has such a few ratings, it's a brilliant story. Rebel Wing is a mix of different things, there is of course a lot of action but there is also time for friendship and even a bit of romance. The romance wasn't the main focus of the novel and I really loved that. Tracy Banghart here writing style is really fluid and I once I started reading this book I wasn't able to put it down. After I finished this book I immediately went ahead and got the second book because I couldn't wait to find out how the story continued. This hadn't happened in a really long time so it's another indicator of how amazing this book is. I would highly recommend this book to everyone!
El