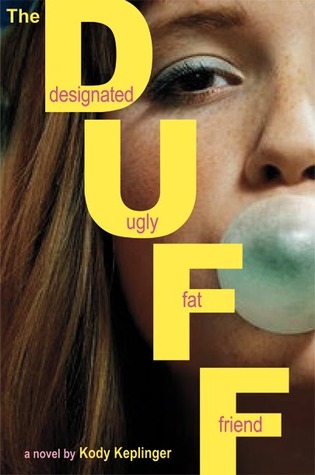 Title: The DUFF: Designated Ugly Fat Friend
Author: Kody Kepplinger
Series: The DUFF
Genre: Contemporary, Romance, Young Adult
Publisher: Little Brown/Poppy
Publication date: September 7th 2010
Pages: 280 (hardcover)
Source: Netgalley
Seventeen-year-old Bianca Piper is cynical and loyal, and she doesn't think she's the prettiest of her friends by a long shot. She's also way too smart to fall for the charms of man-slut and slimy school hottie Wesley Rush. In fact, Bianca hates him. And when he nicknames her "the Duff", she throws her Coke in his face.
But things aren't so great at home right now, and Bianca is desperate for a distraction. She ends up kissing Wesley. Worse, she likes it. Eager for escape, Bianca throws herself into a closeted enemies-with-benefits relationship with him.
Until it all goes horribly awry. It turns out Wesley isn't such a bad listener, and his life is pretty screwed up too. Suddenly Bianca realizes with absolute horror that she's falling for the guy she thought she hated more than anyone.
The DUFF
was one of those books that had been on my TBR list for ages. I was not sure if I would ever get around reading it but then I saw the trailer for the movie so I decided that I should really read the book since the trailer looked fun. When I started this book I was expecting a fun, light read. It was still a fun read but it was also a bit heavier than I expected. The book touches on some touchy topics, nothing too heavy but still more than I expected. The Duff is a sweet, funny read about friendship and love.
Bianca is a great character to read about. She is outspoken, snarky and very steadfast. She might not be like her friends but she does not want to change herself. Bianca stays true to herself and I really appreciate that in a character. And most importantly she is a good friend and daughter. Wesley on the other hand comes across as a complete tool when I first met him. Rich, popular, cocky, good looking… he has it all. But there is more to him than you might expect. His life is not as perfect as it might seem at first and most of the time he hides behind this façade. So by the end of the book I really liked him.
I liked that Wesley's and Bianca's relationship developed slowly. It started as something purely physical and over time it became something more. They both tried to escape the world they lived in by getting together in secret. But with time feelings developed between them even if they never thought it would be possible between them.
The Duff
was a really enjoyable read. I am glad I finally read it after all these years because I enjoyed it more than I expected I really cannot wait to read the other books by Kody Kepplinger. She is an amazing author and she knows how to balance everything perfectly in a book. If you have not read this book yet than I recommend that you read it soon. Especially if you are looking for a book that deals with the tough stuff in life but is not too heavy than this might be the perfect book for you. Certainly if you like books than center around friendship, finding yourself and love.
El