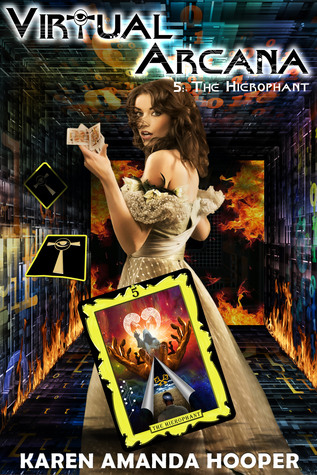 Title: The Hierophant
Author: Karen Amanda Hooper
Series: Virtual Arcana
Genre: Sci-Fi, Young Adult
Publication date: March 15th 2015
Pages: 57 (kindle)
Source: received from author
Goodreads
Every time that I read an episode in the Virtual Arcana series my mind is blown away. I am always left wanting more. More answers to my questions, more of Kelsey and Xander, you know just more of everything.
Most of the time during this series I have been confused, unsure of what exactly was going on. At the beginning of this book I felt the same way. I had no idea what was real and what was not. But since Kelsey was out to find answers we also got answers. Bit by bit I realized that I was getting better at seeing what was real and what virtual reality was. Still I am missing some essential pieces to figure it all out. Hopefully I will fully understand it at the end of the next episode.
The Hierophant
might be a short read but it's a great one. It's packed with action and suspense. There were a lot of twists and turns to keep me on the edge of my seat. Every episode feels like we get some puzzle pieces and let me tell you it's a hard puzzle to make. I can't wait to get my hands on the last episode.
El