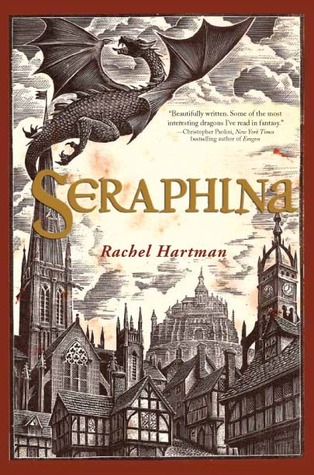 Title: Seraphina
Author: Rachel Hartman
Series: Seraphina
Genre: Fantasy, Young Adult
Publisher: Random House Books for Young Readers
Publication date: July 10th 2012
Pages: 467 (hardcover)
Source: own it
Four decades of peace have done little to ease the mistrust between humans and dragons in the kingdom of Goredd. Folding themselves into human shape, dragons attend court as ambassadors, and lend their rational, mathematical minds to universities as scholars and teachers. As the treaty's anniversary draws near, however, tensions are high.
Seraphina Dombegh has reason to fear both sides. An unusually gifted musician, she joins the court just as a member of the royal family is murdered - in suspiciously draconian fashion. Seraphina is drawn into the investigation, partnering with the captain of the Queen's Guard, the dangerously perceptive Prince Lucian Kiggs. While they begin to uncover hints of a sinister plot to destroy the peace, Seraphina struggles to protect her own secret, the secret behind her musical gift, one so terrible that its discovery could mean her own life.
In her exquisitely written fantasy debut, Rachel Hartman creates a rich, complex, and utterly original world. Seraphina's tortuous journey to self-acceptance is one readers will remember long after they've turned the final page.
Since I got a copy of the second book in this series through Netgalley I really needed to read this one. It had been a really long time since I last read a high fantasy novel and I'm glad that Seraphina was the one I read.
The world building of this book is just amazing. The society Seraphina and the others lived in was very believable. Rachel Hartman had thought of everything that a society has, religion, culture even the clothes. She explained everything well and I loved learning about the world that she has created. And I can't wait to read more about it in the next book.
Seraphina was a lovely character. She's determined, driven and patient. When she finds out that something really wrong is going on she's determined to get to the bottom of it. She doesn't hesitate to uncover everything by herself. It does get her in some trouble. But thanks to her secrets that she has to hide from everyone no matter what the cost make it hard for her to trust anyone. But thanks to Prince Lucian Kiggs and Princess Glisselda she learns that people can be trusted. If not with her secrets than definitely with helping her uncover the mystery.
Seraphina was not the only great character in this book. Orma, the dragon, was just amazing. He was smart and socially awkward. This made an interesting combination, since he always tried to learn everything from everyone but he didn't realize that he came across rather rude at times. For a secondary character he was really well developed. And he's definitely one of my favorite characters in the book.
One of the best things of this book was that I didn't see the end coming. I was completely caught off guard. Often I can see the way a book is going to end way before I'm even near to finishing it, but not with this book. It was also great that the author wrapped everything neatly up. If people only wanted to read the first book than that would be perfectly possible. In the next book we will follow Seraphina in a whole new journey and I can't wait to read it!
El