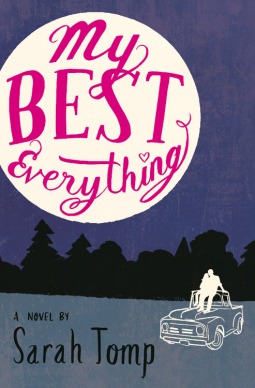 Title: My Best Everything
Author: Sarah Tomp
Genre: Contemporary, Young Adult
Publisher: Brown Books for Young Readers
Publication date: March 3rd 2015
Pages: 400 (hardcover)
Source: Netgalley
You say it was all meant to be. You and me. The way we met. Our secrets in the woods. Even the way it all exploded. It was simply a matter of fate.
Maybe if you were here to tell me again, to explain it one more time, then maybe I wouldn't feel so uncertain. But I'm going back to the beginning on my own. To see what happened and why.
Luisa "Lulu" Mendez has just finished her final year of high school in a small Virginia town, determined to move on and leaver her job at the local junkyard behind. So when her father loses her college tuition money, Lulu needs a new ticket out.
Desperate for funds, she cooks up the (definitely illegal) plan to make and sell moonshine with her friends, Roni and Bucky. Quickly realizing they're out of their depth, Lulu turns to Mason: a local boy who's always seemed like a dead end. As Mason guides Lulu through the secret world of moonshine, it looks like her plan might actually work. But can she leave town before she loses everything - including her heart?
The summer walks the line between toxic and intoxicating. My Best Everything is Lulu's letter to Mason - though is it an apology, a good-bye, or a love letter?
My Best Everything
was an interesting and fascinating. From the start I immediately knew that it was going to be a book that I either would love or hate. Luckily for me it turned out to be a book that I loved.
Lulu has a plan, a very simple plan: get out of Dale as soon as possible. But Lulu had counted on the major setback, her father lost her college money and now she will be stuck in Dale for some time. Desperate to still go to college as planned she comes up with a crazy plan to make money. But how much is she willing to give up in order to get out of Dale?
My Best Everything
is set in the summer months after graduation. I clearly remember those months myself. You were finally going to set off on your own, you felt like a grownup that could conquer the world. But I think we all figure out soon that the real world is harder than it looks. And that's exactly what Lulu realizes after graduating high school. Life seems to have a plan of its own for her and she's not happy with it at all. I have to admit I admired Lulu's determination. She's so set on her goal that she will do anything to make it. Even if it means doing illegal things and (unintentionally) hurting the people around her. True her choices were not always the best but I couldn't help but like her and feel for her.
Mason was a unique character on its own. Most authors write about the handsome bad-boys that every girl swoons over. But Mason wasn't like that at all. Lulu didn't see him as a handsome guy. He was average at best with a buzz-cut. It was his personality that made everyone swoon. I couldn't help but be drawn to him. He has a really bad past and because of that a bad reputation as well. But this doesn't stop Lulu to get to know the real Mason. His past shaped him to the guy he is now and I really admire the guy that he's become.
But the thing I loved the most about this book is the way it was told. This book was Lulu's letter to Mason. Retelling everything that had happened from the moment they met till the very end. There will be people who won't like this style of writing but I just loved it. It was different than other books and so refreshing.
The ending is bittersweet and I really want to find out what happens after her letter ended. I am really hoping that the author will write a book in the form of Mason's response to Lulu.
Overall I really liked this book. I loved the storyline, the characters were great and the writing style was really refreshing. If you haven't read this book yet than I really hope that you will give it a shot.
El