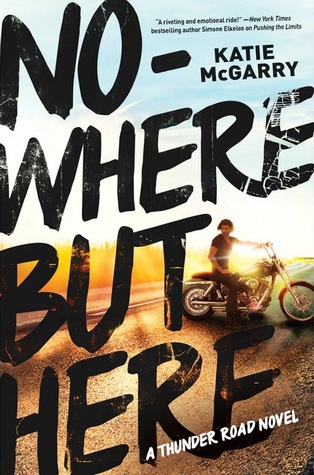 Title: Nowhere But Here
Author: Katie McGarry
Series: Thunder Road
Genre: Contemporary, Romance, Young Adult
Publisher: Harlequin Teen
Publication date: May 26th 2015
Pages: 496 (hardcover)
Source: Netgalley
An unforgettable new series from acclaimed author Katie McGarry about taking risks, opening your heart and ending up in a place you never imagined possible.
Seventeen-year-old Emily likes her life the way it is: doting her parents, good friends, good school in a safe neighborhood. Sure, she's curious about her biological father - the one who chose life in a motorcycle club, the Reign of Terror, over being a parent - but that doesn't mean she wants to be part of his world. But when a reluctant visit turns to an extended summer vacation among relatives she never knew she had, one thing becomes clear: nothing is what is seems. Not the club, not her secret-keeping father and not Oz, a guy with suck-me-in blue eyes who can help her understand them both.
Oz wants one thing: to join the Reign of Terror. They're the good guys. They protect people. They're... family. And while Emily - the gorgeous and sheltered daughter of the club's most respected member - is in town, he's gonna prove it to her. So when her father asks him to keep her safe from a rival club with a score to settle, Oz knows it's his shot at his dream. What he doesn't count on is that Emily just might turn that dream upside down.
No one wants them to be together. But sometimes the right person is the one you least expect, and the road your fear the most is the one that leads you home.
So far I have loved every single book that Katie McGarry wrote. Nowhere But Here was no exception. McGarry writes some amazing YA romance/drama and with every book I fall even more in love with her writing.
I was hooked from the very first chapter of Nowhere But Here, it set in a different place than I am used to from her books, a motorcycle club. It was fun to read about and the story was emotional and beautiful.
Emily was a lovely character. She had a very sheltered upbringing and she did not mind it. Venturing out of the state Florida was never on her agenda. And being stuck with a family she does not know at all and a motor club for the summer was the last thing she would ever want. But Emily is tougher than she looks. And I loved how she grew throughout this entire novel. She started off as a shelter girl with almost no mind of her own but at the end she was a strong young women.
And then there was Oz, I do not know where to start with him. He is such an amazing guy. He is loyal to his friends and his family. He cares for the ones that he loves and for the less unfortunate. But he is also stubborn and he has a hard time expressing what he feels. I loved him to pieces and I could not get enough of him.
I loved the dynamics between Emily and Oz from the very beginning. It was clear that they were attracted to each other form the very first time they met but they also could not stand each other. Emily grew up thinking that everyone in a motor club was bad and that they could not be trusted. So naturally she did not trust Oz. Oz on the other hand is mad at Emily because she is hurting the people he loves by rejecting him. And it does not help that she might have caused him his chance to become a member of the motor club. Gradually they get to know each other better and they see that they will have to adjust their opinions by each other. They bring out the best in each other. Emily lets Oz see that there is a life outside of the motor club and he shows Emily what the motor club is about and that she has a great family if she accepts them. I loved how their relationship grew slowly. There was no rush at all and they really took their time with each other. It felt so natural and innocent but at the same time also passionate.
As is always the case with Katie McGarry her books there were so many great side characters in this book. A lot of them had emotional baggage with them and I cannot wait to read their story. I already care for them a lot even if we saw only a couple of glimpses of some of them. McGarry did a marvelous job writing this story. It made me laugh, it made me cry… it was an intense emotional rollercoaster and I loved every second of it. I cannot wait until the next book in the Thunder Road series comes out.
El