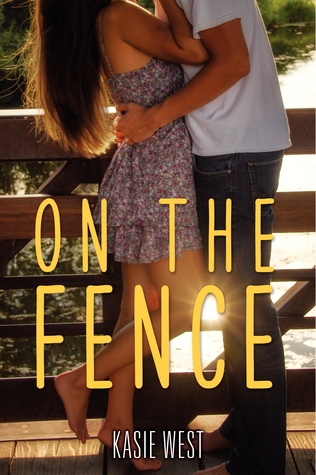 Title: On The Fence
Author: Kasie West
Genre: Romance, Contemporary, Young Adult
Publisher: HarperTeen
Publication date: July 1st 2014
Pages: 296 (paperback)
Source: own it
For sixteen-year-old Charlotte Reynolds, aka Charlie, being raised by a single dad and three older brothers has its perks. She can outrun, outscore, and outwit every boy she knows - including her longtime neighbor and honorary fourth brother, Braden. But when it comes to being a girl, Charlie doesn't know the first thing about anything. So when she starts working at chichi boutique to pay off a speeding ticket, she finds herself in a strange new world of makeup, lacy skirts, and BeDazzlers. Even stranger, she's spending time with a boy who has never seen her tear it up in a pickup game.
To cope with the stress of faking her way through this new reality, Charlie seeks late-night refuge in her backyard, talking out her problems with Braden by the fence that separates them. But their Fence Chats can't solve Charlie's biggest problem: she's falling for Braden. Hard. She knows what it means to go for the win, but if spilling her secret means losing him for good, the stakes just got too high.
After reading The Distance Between Us a month ago I immediately wanted to read On the Fence. Kasie West her writing style is just amazing. And she wrote some wonderful characters that I couldn't get enough of. So as soon as I got the chance I bought a copy of On the Fence.
Charlie is a great character. She's fun and easy to relate to. I didn't have as much in common in her as with Caymen of The Distance Between Us but I still loved her a lot. She's not a typical teenage girl, she loves sports a lot. Soccer, basketball, football she can do it all. Girly things on the other end… well she's not so good in that department. It was fun to see her struggle to those phases in her life where she was trying to figure out if clothes, makeup and other girly things could be a part of her life as well. I also loved that she had such a good relationship with all of her brothers. They supported her in everything, were a bit overprotective at times (as they should be!) and were a lot of fun to be around. I couldn't but help to love Charlie's entire family.
Braden was a perfect guy next door. Kasie West can create some awesome love interests. First Xander and now Braden. Seriously I don't know where she finds them. Braden is a sweet guy and he's funny and smart to top it all off. Yep perfect boyfriend material.
The romance in this book was less present than it was in The Distance Between Us. I missed the build-up to it all. That was really my only disappointment in this book. But Charlie and Braden already knew each other for a really long time. So I understand that there feelings for each other developed different. They were friends first so it takes some time before one might realize that friendship is changing into something else. After a while it became clear that there was a lot of attraction between them but it took them so long to act upon it!
One of the things that I loved the most in this book was that it was set in the same area as The Distance Between Us. Some characters of the previous book popped up in this one and I was so happy to see them again.
This book was great. I had a big smile on my face the entire time that I was reading it. It just gave me so many happy feelings and that's exactly what I need sometimes while reading a book. Yes there were some serious parts in this book but most of the time it was just a sweet read. Kasie West certainly made it to my auto-buy list now. And I can't wait to read her next book The Fill-In Boyfriend.
El