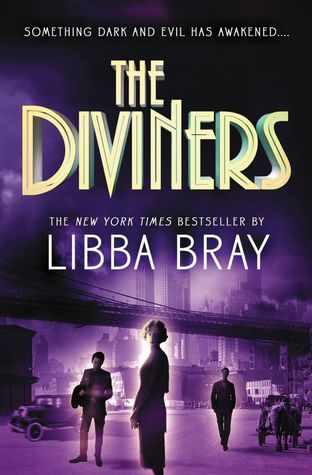 Title: The Diviners
Author: Libba Bray
Series: The Diviners
Genre: Fantasy, Historical Fiction, Mystery, Young Adult
Publisher: Little, Brown Books for Young Readers
Publication date: December 3rd 2013
Pages: 578 (paperback)
Source: own it
Do you believe there are ghosts and demons and Diviners among us?
Evie O'Neill has been exiled from her boring old hometown and shipped off to the bustling streets of New York City - and she is pos-i-tute-ly ecstatic. It's 1926, and New York is filled with speakeasies, Ziegfield girls, and rakish pickpockets. The only catch is that she has to live with her uncle Will and his unhealthy obsession with the occult.
Evie worries he'll discover her darkest secret: a supernatural power that has only brought her trouble so far. But when the police find a murdered girl branded with a cryptic symbol and Will is called to the scene, Evie realizes her gift could help catch a serial killer.
As Evie jumps headlong into a dance with a murderer, other stories unfurl in the city that never sleeps. And unknown to all, something dark and evil has awakened...
This has been the first book in years that I have read by Libba Bray. I loved her Gemma Doyle series, so I don't know why it took me so long to read another book by her. I am glad that The Diviners was the one I picked up in the end. I loved this book so much! Seriously Libba Bray is a brilliant author.
This book is like any other thing I have read before, and I mean that in the best way possible. There are so many different elements brought together in this story. The way they the author wove all these elements together was just magnificent. They all complemented each other so well and it looked like it was all done with ease while I am sure that it must have been a difficult task. It was interesting to see how all the different storylines and characters were brought together bit by bit.
There were a lot of different characters in this book and they were all important to the story line. But I think that it is safe to say that Evie O'Neill was the most important one in this book. I loved Evie so much. She developed so much during this book. At first she was just a naïve, spoiled girl but once she faces the real world she realizes that not everything is about her. She matures a lot and tries to help the ones around her. Sure she still has her moments where she is incredibly selfish but that only makes her more human. I love how she interacted with all the other characters. Her growing relationship with her uncle, her bantering with Sam and the girly drama with Mabel. Seriously I do not think that there is a character in this book that I did not love. There were all amazing in their own unique way.
One of the last aspects that I loved so much about this book is that it was set in America in the 1920s. I have always been a bit fascinated by this time period, the dresses, the parties… It all just seems so wonderful to me. But I did not know that much about that time. And after reading this book I know a little bit more about it. I always love it when I actually learn something knew by reading a book. Libba Bray must have put a lot of research in this book to get all the details right, and believe me there were quite a few of them, and I really appreciate that. She could have written this book with a lot less details of that time period, but the richness of the details makes this book so much more special to me.
And now I have not even talked about the plotline itself, the murders. Libba Bray did an amazing job with this. So many different things were going on in this book but she never lost the end goal out of sight, solving the murders and finding the murdering. I have to say they were times that I was scared and freaked out. That has never happened to me before while reading a book. But I just could feel all the suspense and I watched several times over my shoulder while reading this book because I had the feeling that the murderer was standing right behind me! I still get the chills when I think about it…
I think that it is safe to say that I loved this book! I cannot think of a thing that I did not like about this book. The Diviners just blew me away. While it might have been a lengthy novel I still finished it still did not take me too long to read it because it was so good! Seriously I could not put it down; I just had to keep reading. If you have not read this book yet than I urge you to read it as soon as possible. Personally I cannot wait to read the sequel!
El