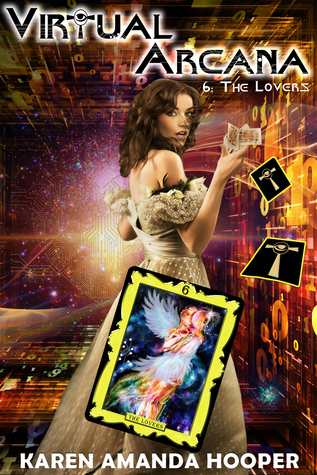 Title: The Lovers
Author: Karen Amanda Hooper
Series: Virtual Arcana
Genre: Sci-Fi, Young Adult
Publication date: April 25th 2015
Pages: 54 (ebook)
Source: received from author
Goodreads
This book was a perfect ending to the first season of this new book series by Karen Amanda Hooper. The entire time I was so confused by everything that was going on and I was afraid that I would be left with so many questions by the end of this season. But everything was made clear by the end of it and I loved it! I would never have guessed what was going on by myself and now that I know everything makes so much more sense to me. Honestly I do not know why I did not figure it out sooner, there were a lot of things that I could have picked up from the previous books…
I loved that we got to know so much more about Kelsey's character in this book. This book shed a whole new light on her and I have got to say I only love her more now. This book just shed a completely new light on most of the characters. My mind is just blown away with this book. I cannot describe it in any other way.
But what surprised me the most was that there is a connection to the Kindrily series by Karen Amanda Hooper. I could never have seen that coming and I want to see how both of them are connected. The Kindrily series is one of my favorite series so I am so excited to see what is going to happen!
The books in this series are so cleverly written, they will make your head spin with all kinds of theories. And you will keep thinking about it because you want to know what exactly is going on. I would highly recommend this series to everyone. I cannot wait until the second season comes out.
El