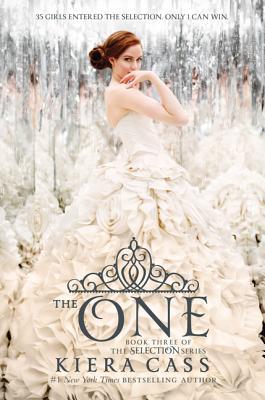 Title: The One
Author: Kiera Cass
Series: The Selection
Publisher: HarperTeen
Publication date: May 6th 2014
Pages: 323 (hardcover)
Source: Netgalley
The time has come for one winner to be crowned.
When she was chosen to compete in the Selection, America never dreamed she would find herself anywhere close to the crown - or to Prince Maxon's heart. But as the end of the competition approaches, and the threats outside the palace walls grow more vicious, America realizes just how much she stands to lose - and how hard she'll have to fight for the future she wants.
The previous book in this series, The Elite, was not what I was expecting from it. So my expectations for The One were definitely lower than they were for The Elite. I still did not like this book as much as I liked The Selection, but overall I am satisfied with it. The book was a good ending to the story.
We finally got to know a lot more about the rebels. Their part in the book was definitely interesting but I still feel like their story is underdeveloped. Kiera Cass could have done so much more with it. But there was still a lot of suspense in the book to keep me on the edge of my seat most of the time. And the rebel parts made sure that there was some action in the book to keep me interested.
The four girls really grew on me in this book, we finally got to know their motives and reasons for wanting Maxon. And I really appreciated them for that. I even started liking Celeste and she is the kind of character I normally do not like since she is just a spoiled, rich girl. It was nice to see them bond in this book. They were all so different from each other but they still had some things in common. Especially America grew on me during this book. I liked her in the first book but then she made some poor decisions in the second one and I was a bit troubled by her. But she redeemed herself in this one. She made up her mind and went for the things in life she wanted the most. She proved to me that she was a young women who is independent, can make up her own mind and will follow the consequences of her decisions. In this book I had more of a problem with Maxon. When we first met him he was this sweet, innocent guy but now he was just a major flirt. He wandered from girl to girl, not thinking about their feelings, and then he just claimed that he had to do it because of the selection. And all the while he knew that there was only one girl he actually wanted to be with.
Overall I liked this book. The ending was satisfying even though it could have been worked out a little bit better. Some parts felt a bit rushed, especially the parts with the rebels, where other parts felt dragging. Still I enjoyed this series and I hope to read more books by this author in the future.
El