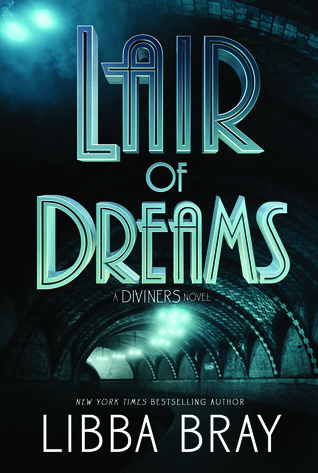 Title: Lair of Dreams
Author: Libba Bray
Series: The Diviners
Genre: Paranormal, Mystery, Historical Fiction, Young Adult
Publisher: Little, Brown Books for Young Readers
Publication date: August 25th 2015
Pages: 613 (Hardcover)
Source: Netgalley
The longing of dreams draws the dead, and this city holds many dreams.
After a supernatural showdown with a serial killer, Evie O'Neill has outed herself as a Diviner. With her uncanny ability to read people's secrets, she's become a media darling, earning the title "America's Sweetheart Seer." Everyone's in love with the city's newest It Girl... everyone except the other Diviners.
Piano-playing Henry DuBois and Chinatown resident Ling Chan are two Diviners struggling to keep their powers secret - for they can walk in dreams. And while Evie is living the high life, victims of a mysterious sleeping sickness are turning up across New York City.
As Henry searches for a lost love and Ling strives to succeed in a world that shuns her, a malevolent force infects their dreams. And at the edges of it all lurks a man in a stovepipe hat who has plans that extend farther than anyone can guess.... As the sickness spreads, can the Diviners descend into the dreamworld to save the city?
In this heart-stopping sequel to The Diviners, Printz Award-winning and New York Times bestselling author Libba Bray takes readers deeper into the mystical underbelly of New York City.
Earlier this year I had read The Diviners and I loved that book. The book was a real match for me. It offered a mix of different genres - historical, supernatural, romance, mystery and horror – while balancing it all out perfectly. So I could not wait until Lair of Dreams came out.
I cannot say that Lair of Dreams was as good as its prequel but it was still definitely worth my time and worth reading. I really love the alternate 1920's NYC Libba Bray has created in this series. It is a really interesting era that has always intrigued me. Lair of Dreams introduced us to new horrors and some new people who had to help solve the mystery. I like the way Libba Bray is able to wave the supernatural story line into a very realistic historical setting. It is not an easy thing to because you do not want to diminish the credibility of the book. But Libba Bray has a real talent for doing it in a perfect way and that is one of the many reasons why I love her books so much. Into this world full of jazz, speakeasies and illegal liquor Libba Bray introduces us to supernatural events. This time she introduces us to a sleeping sickness and dream walkers. Ghosts roam the city, people go missing and people fall asleep to never wake up again.
A lot of familiar characters reappear in this book such as Evie, Sam and Jericho and I was thrilled to see them again. They are great characters to follow and they make sure that there is never a dull moment to spot in the book. But in this book we saw less of them because they made some room for new characters like Ling and we got to know more about Henry. Ling was definitely an interesting character and I was glad she was introduced into this book; I believe she makes a nice addition to the gang since she is more down to earth than all the others. It will balance them out a little.
But this book missed some of the things The Diviners possessed. The supernatural mystery was not as strong and it did not give me the goosebumps Naughty John gave me. But then again it is almost impossible to compete against him, that man was one of the creepiest characters I have ever encountered in a novel. Still enough happened to keep me on the edge of my seat and to let my heart stop a beat at certain points.
Overall I really liked this book and Libba Bray has proved yet again that she is an excellent author. Lair of Dreams was an excellent mix of different aspects and while it might have been slow at certain moments it kept me interested until the very end. Personally I cannot wait until the next book in this series is released.
Elien