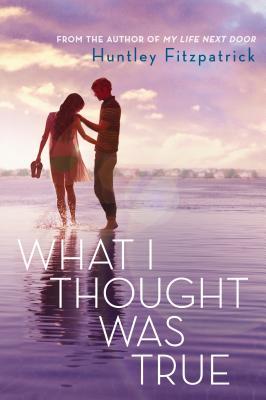 Title: What I Thought Was True
Author: Huntley Fitzpatrick
Series: My Life Next Door
Genre: Contemporary, Romance, Young Adult
Publisher: Dial Books for Young Readers
Publication date: April 15th 2014
Pages: 422 (hardcover)
Source: Netgalley
From the acclaimed author of My Life Next Door comes a swoony summertime romance full of expectation and regret, humor and hard questions.
Gwen Castle has never so badly wanted to say good-bye to her island home till now; the summer her Biggest Mistake Ever, Cassidy Somers, takes a job there as the local yard boy. He's a rich kid from across the bridge in Stony Bay, and she hails from a family of fishermen and housecleaners who keep the island's summer people happy. Gwen worries a life of cleaning houses will be her fate too, but just when it looks like she'll never escape her past - or the island - Gwen's dad gives her some shocking advice. Sparks fly and secret histories unspool as Gwen spends a gorgeous, restless summer struggling to resolve what she thought was true - about the place she lives, the people she loves, and even herself - with what really is.
A magnetic, push-you-pull-me romance with depth, this is for fans of Sarah Dessen, Jenny Han, and Deb Caletti.
This book was just okay for me, it certainly was not bad but it is also not a book that I will still remember next year. I still like Huntley Fitzpatrick a lot and I will definitely continue to read all her other books.
What I like about her books is that her characters are realistic. She portrays teenagers that are not perfect but also do not have major issues that threaten their live. She shows them like most teenagers are. They are trying to figure out who they are exactly and what it is in life that they want. Another thing that I liked about What I Thought Was True is that the booked focused on more characters than just the main characters. It also showed the stories of their friends and families, which I really enjoyed.
But there were also some things about this book that I did not like so much. Normally I like a flashback in a book since it gives you more insight into what exactly happened to the characters in the past. But in this case there were just too many of them and the transitions between past and present were not always clear to me. So at times it left me a bit confused until I caught on again. Another thing was that I felt that some things could have been left out of this book, especially in the middle. I liked the pace of the book in the beginning, and certainly in the end. But in the middle I had a bit of a struggle to continue the story.
But guys do not let any of this put you off. Because in the end it was still a pretty decent book that I really enjoyed reading. It is well written, as we can expect from Huntley Fitzpatrick, and it showed pretty well how teenagers handle certain things and how they deal with things in live that are thrown in their path.
What I Thought Was True
is not a fluffy summer read full of romance. Yes there is some romance in it of course but to me it does not feel like it is the main focus of this book. There is so much more to it. I would still recommend it to you if you are looking for a decent YA contemporary read. And I cannot wait to read Huntley Fitzpatrick her other books.
Elien