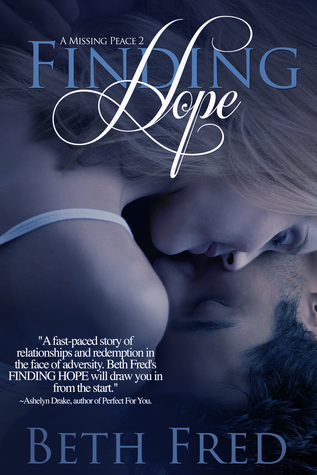 Title: Finding Hope
Author: Beth Fred
Genre: Contemporary, Romance, Young Adult
Publication date: September 1st 2014
Pages: 264 (paperback)
Author links: Blog | Twitter | Facebook
Source: received from author
When insecure eighteen-year-old Kailee Hill gets caught tagging Iraq war refugee, Abrahem Yohanna's garage, she's not expecting him to act as her designated driver, hold her hair back when she pukes, or offer to be a shoulder to cry on. But she's failing chemistry and her life is falling apart, so she uses the number Abe leaves her and finds herself an new tutor.
The two quickly find themselves falling hard for each other. Kailee attacks a local grunt when he calls Abe a "sand nigger" and fights her veteran brother to be with him. When she learns Abe hasn't told his family about her, she's heartbroken and the couple risks losing everything they've worked to build. To make matters worse Kailee's previous acts make her the prime suspect in a serious crime. With Kailee behind bars and doubting his feelings for her, Abe must find a way to rescue the girl he loves and win back her affection. And to do that he'll have to catch a crook...
A year ago I read A Missing Piece I liked that book well enough. So when they asked me to review Finding Hope I gladly accepted. Finding Hope tells the story of Abrahem and Kailee. I was a little surprised that it took place in the same time period as A Missing Piece but it was nice, this way we got to see how the two stories intertwined.
Kailee might seem very confident and it looks like she has everything a girl could ever want but that's not the case. Her mother has left her when she was young, her father is almost never at home and her brother is not the same since he came home from the war in Iraq. I didn't like her at all in A Missing Piece, she was rude to Mirriam (Abrahem sister) all the time and she made some very racists remarks. But my opinion of her changed while reading this book. She grew a lot during this book, she no longer behaved how others expected her to behave, and she finally showed her true self.
I don't really know how to feel about Abrahem. I could never agree with some of the decisions he made. He might come from a different culture, but he was very selfish in some perspectives. He was upset with Mirriam because she hung out with Caleb while he was doing the exact same thing with Kailee. In the end he made it all right so for that reason I give him some credit. And he showed multiple times that he had a kind heart and that he looks after the people he loves.
Like in the previous book I had some trouble with the writing style of the author. At times it confused me a little and sometimes the writing flow wasn't that great. But there were enough plotlines and surprises to keep me interested in the book.
Overall Finding Hope is a great YA contemporary novel that explores different cultures and races and how those can affect our lives.
About the author
Beth Fred is a full time ELF keeper and a part time author/blogger/writing instructor. She's represented by Kathleen Rushall of Marsal Lyons Literay Agency. Beth likes her tea hot, her romance sweet, and her guys chilvalrous. Real men hold open doors, refer to you as ma'am, make promises they keep, and aren't afraid to prefess their undying love. It's not breakfast if there aren't carbs (at least, not in the South). Fajitas, carnitas, and churros are just few of her favorite things. Bet you can't guess where she's from ;)
Giveaway
a Rafflecopter giveaway
El