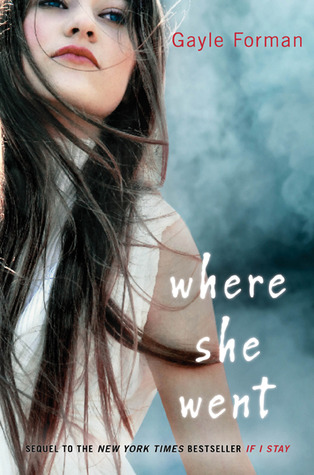 Title: Where She Went
Author: Gayle Forman
Series: If I Stay
Genre: Contemporary, Young Adult
Publisher: Speak
Publication date: January 1st 2011
Pages: 264 (paperback)
Source: own it
It's been three years since the devastating accident... three years since Mia walked out of Adam's life forever.
Now living on opposite coasts, Mia is Juilliard's rising star and Adam is LA tabloid fodder, thanks to his new rock star status and celebrity girlfriend. When Adam gets stuck in New York by himself, chance brings the couple together again, for one last night. As they explore the city that has become Mia's home, Adam and Mia revisit the past and open their hearts to the future - and each other.
Told from Adam's point of view in the spare, lyrical prose that defined If I Stay, Where She Went explores the devastation of grief, the promise of new hope, and the flame of rekindled romance.
I liked If I Stay a lot but I'm in love With Were She Went. I have a hard time writing my thoughts down because I still feel emotional when I think of this book. It's hard to describe why I loved this book better than its predecessor. If I Stay was about death and life but there were hardly any tears but a boy with a broken heart and I sobbed for hours.
Love and loss were again the theme in Where She Went but in a very different way. I felt Adam's emotions like they were my own. His anger, despair, sadness, confusion… I felt it all. Like Adam I wanted to find out Why? There didn't seem to be a good answer to this question and I was quiet upset with Mia because she is the one who made him feel like this. Then again at the same time I understood where she came from. Normally I can't really connect as good with male characters as I normally do with female once but this time I had no problem with it at all. You would think that he's a selfish person for feeling this way after all it was Mia who had lost everything while he got to live his dream. But that was not the case at all with Adam, I could see were his feelings came from and my heart went out to him. Gayle has a real talent for letting you see inside a person's head so you can see and understand the characters feelings.
Where She Went
was written in the same style as If I Stay. Adams story is told in one day but we get his story from the last couple of years told in flashbacks. And these flashbacks are what I love the most about this series. They show how their pasts and their actions defined the place where there are now and how they are going to turn out in a couple of years.
I am definitely going to read Gayle's other novels. I can't wait to find out what else she has in store for us!
El