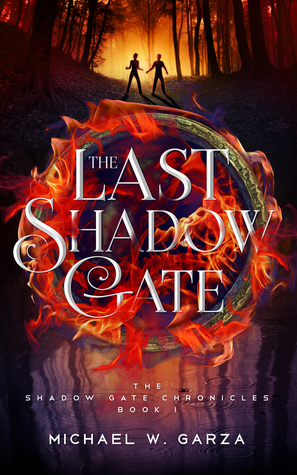 Title: The Last Shadow Gate
Author: Michael W. Garza
Series: The Shadow Gate Chronicles
Genre: Fantasy, Adventure, Middle Grade
Publisher: NeerHaven Press
Publication date: March 3rd 2017
Pages: 262 (paperback)
Source: Own it (received from author)
Buy links: Amazon
Summer vacation was never supposed to be like this.



It was bad enough Naomi had to be shipped off to her dad's home for the summer and deal with her half-brother Gavin, but when the siblings are forced to spend their break with their great-grandmother in upstate New York, everything changes. An investigation into the strange disappearance of their great-grandfather forces them to retrace his footsteps. They discover a gateway between worlds and encounter extraordinary creatures in a land where the people are desperate to escape the coming of a shade lord. To survive their adventure, Naomi and Gavin must settle their differences and find the elusive shadow gate that will take them home again.
When the author approached me with the request to read The Last Shadow Gate I immediately accepted since the story sounded like a fun adventure and fantasy story for younger readers.
Two siblings are forced to spend the entire summer together at their great-grandmother's house in Albany, NY. The least you could say is that they were not happy at all with their parent's decision. They grew up on other sides of the country and Naomi already thought it was bad enough that she had to spend time with her little brother every summer but now she will literally have no escape from him all summer long. And to make things worse their great-grandmother went a bit crazy after her husband disappeared according to their father. But what they find during their stay with their great-grandmother's is better than either of them could have ever hoped for. Soon enough they are pulled into an adventure that surpasses their wildest imagination.
I think I was as fascinated as Naomi and Gavin with their great-grandfather's tales of a shadow gates. The mystery pulled me right in and it kept me on the edge of my seat throughout the entire story. The author did create a magical world filled with incredible creatures that I could have never imagined. The entire book was just one big adventure, the siblings constantly ran into trouble while trying to navigate the new world they ended up in. There were some fights, a battle and a lot of other events that created suspense. The world that the author had created was surrounded by darkness but at the same time I could also see the beauty in it.
The siblings were also fun to read about. At times Gavin sounded a lot older than twelve and seemed more mature in a lot of ways than his sister Naomi. But I just loves seeing how much they cared about each other and how they grew closer throughout the story. The other characters they came across during their journey were also interesting and I am really hoping that we get to see some of them again in the next book.
Overall I really enjoyed this book. It was a really quick and kept me entertained until the end. If you are looking for a fantasy book for a middle grader than I would definitely recommend this one. I cannot wait until the next book in this series comes out.
Elien