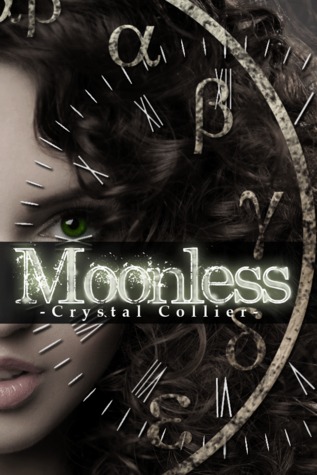 Title: Moonless
Author: Crystal Colier
Series: Maiden of Time
Genre: fantasy, YA
Publisher: Raybourne Publisher
Publication date: November 13th 2013
Pages: 323 (paperback)
Moonless is Jane Eyre meets Supernatural.
In the English society of 1768 where women are bred to marry, unattractive Alexia, just sixteen, believes she will end up alone. But on the county doorstep of a neighbor's estate, she meets a man straight out of her nightmares, one whose blue eyes threaten to consume her whole world - especially later when she discovers him standing over her murdered host in the middle of the nigth.
Among the many things to change for her that evening are: her physical appearance - from ghastly to breathtaking, an epidemic of night terrors predicting the future, and the blue-eyed man's unexpected infusion into her life. Not only do his appearances precede tragedies, but they are echoed by the arrival of ravenous, black-robed wraiths on moonless nights.
Unable to decide whether he is one of these monsters or protecting her from them, she uncovers what her father has been concealing: truths about her own identity, about the blue-eyed man, and about love. After an attack close to home, Alexia realizes she cannot keep one foot in her old life and one in this new world. To protect her family she must either be sold into a loveless marriage, or escape with the man of her dreams and risk becoming one of the Soulless.
I have always had a fascination for time Jane Eyre was written, something about that time is just really interesting. Maybe it's the way people interacted back then I don't know it's just fascinating. So when the author approached me with the request to read her book and I saw Jane Eyre in the short description I was immediately excited.
Alexia is a plain, everyday girl except of the dreams she has. Only they are not really dreams but more visions… visions of dying people. She can cast her dreams away as just that dreams, that is until she meets the blue eyed men that occurred in her dreams in reality. From then on she only has questions, questions that are answered with even more questions.
From the moment the blue eyed men enters her life Alexia and the world around her completely changes. The author explained well what Alexia was going through, she described it vividly and it was if you could see all the changes before you.
Piece by piece the mysteries of this book were revealed. Together with Alexia we learnt the truth about the world and herself. It was really fun seeing the developments in this story.
The men with the blue eyes, I am not going to say his name you will have to find it out just like Alexia, is the biggest mystery of all. And after finishing this book I feel like I still don't really know him, that was the only disappointing thing in this book. Alexia falls in love with him, but she actually doesn't know a thing about him. So I don't understand how she can love him. But anyway other than that he's a mystery this guy is pretty swoon worthy. He's protective, kind and caring. If you add the mystery it's easy to swoon over him.
This book is full of action and it doesn't bore you for a minute. It's packed with mystery, twist and turns, revelations and so much more. I can't wait till the next book in this series comes out!
El