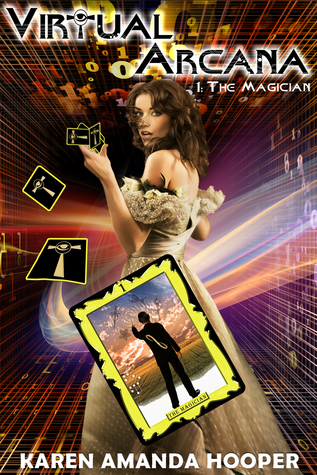 Title: The Magician
Author: Karen Amanda Hooper
Series: Virtual Arcana
Publisher: Starry Sky Publisher
Publication date: November 15th 2014
Pages: 54 (ebook)
Source: received from author (Thank you so much!!)
The second book in the VIRTUAL ARCANA series.
The series starts with book 0: The Fool
Mysterious cards keep appearing in Kelsey's life, stirring up questions and forcing her to keep secrets from her sister, Keekee.
Triggered by Kelsey's fear and Keekee's worry, the twins become bright blips on their tyrannical government's radar.
Xander's magic seems to be their only chance at escaping a dangerous confrontation, but is Kelsey willing to break multiple laws and finally step into Xander's illegal world of virtual reality?
The Magician
the second episode in the Virtual Arcana series. It picks up right after where The Fool left off.
After reading The Fool I had a strong urge to read the second book. I wanted to know what would happen next with Kelsey, Xander and Keekee. I had to find out what exactly was going on because at the end of the first book I was so confused, just like Kelsey. I did get some of my answers but at the same time I also got a lot of new questions.
It was exciting to learn more about the world Kelsey and her friends live in. It's a really strange and complex world. All the technology that they've invented is so nice, especially the different worlds they can access thanks through the technology. At the same time there are also still old thing from years ago like paper books. The combination of those two is what makes this book so interesting. But at the same time the government controls every move of their citizens. So I don't think I would ever like to live in that world.
I was sucked into The Magician right from page one. Like always the case with Karen her books the writing was great and the story flowed well from one scene to the other. We also got to know the different characters a little better. Through the different events in this book we get to see what they do and who they are. Kelsey is growing as a character but it's clear that she still has a long journey ahead of her. I don't know what to think of Xander at times he's a really great person and I love how he sees the world. But he's still a bit of a mystery and at times he's just a little to cheesy for me. But I am definitely looking forward to get to know him better.
Overall I really liked this book. I'm still not a huge fan of serial style books but everything is starting to come together. The ending of this book was great, yes there was a cliffhanger but it didn't bother me as much as it usual does. I can't wait till the next book is released, I'm so excited to find out what is going to happen next. I would recommend this book to anyone who is looking for a YA Sci-Fi book who doesn't mind that it's released in serial style.
El